International Students / Scholars it is your social, cultural, and spiritual heritage which helps gives the greater human society its most valued resources. It is your honor and integrity which helps to both socially and culturally illuminates the student community around you, both on, and off campus. Thus your presence and participation in on and off campus events, as well as leadership is viewed by your fellow students as hopeful in developing better relations after campus life.

Become a Seminar Speaker-Facilitator on your cultural heritage.

Thus your leadership or initiative is most important, and the experience in supporting and creating International events within the protective " IVY " of academic freedoms will have future significance in your future as well.

The following - on this web page - are examples in which circuses are depicted as one of the cultural national iconclasts for family entertainment, the pestas ( fiestas ) to give a further festival contex, as well as scenic paintings depicting the age of sail power during the " Age of Innocences 1870 - 1910 " - in which American middle and upper classes enjoyed and lived.

Mr. Roger M. Christian

Multi-cultural programs are all over American Academia ... Here is an example ...

The Multi-Cultural Council (MCC) is a student organization that serves as a liaison between the Student Government Association and other registered student organizations comprised of underrepresented groups.

MCC promotes awareness, understanding and appreciation of these historically underrepresented groups, including, but not limited to, the Asian Student Organization (ASO), the Association of Black Collegians (ABC), the Human Relations Programming Council (HRPC), the International Student Organization (ISO), the Irish American Society (IAS), the National Society of Black Engineers (NSBE), the Organization of African Students (OAS), the Organization of Latin American Students (OLAS), the Returning Adult Student Organization (RASO), the Society of Women Engineers (SWE), Trigon (a gay/lesbian/bisexual support group), and Women Today.

MCC acts as an advisory organization designed to promote unity and cooperation among its member organizations. MCC assists ... This is being shorten ....

Cultural Fiesta

The Cultural Fiesta is a day-long celebration of the global village highlighting the food, music, and dance of many cultures. It features a variety of programs including dance troupes celebrating German, Irish, and African-American traditions. Display tables featuring artifacts of some thirteen different cultures invite faculty, staff and students to explore worlds much different than their own. Held in the Wintergarden of the Reed Union Building, the sights and sounds of the Cultural Fiesta attract over 500 people. ....

For more information on the college's diversity and multicultural programs, contact the Office of Educational Equity and Diversity at 814-898-6111 in the Reed Union Building.

---
"Perilous" - A Summer Circus Festival
Friday, 19 January 2007, 12:33 pm
Press Release: Media Statement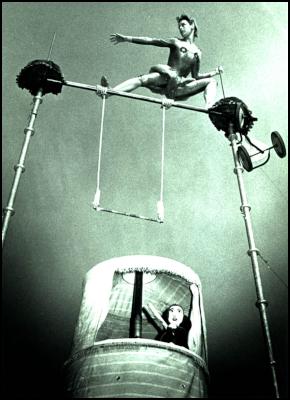 Awkward Productions in association with the Wellington Circus Trust and Meridian Energy Summer City presents "Perilous" - A Summer Circus Festival.
Celebrate the sawdust and the sunshine! Be amazed by national and Wellington's very own circus performers, theatre, hip hop, music, street and community artists.
Try workshops in flying trapeze, juggling, balancing and unicycling or simply watch Civic Square transformed by exotic characters and beautiful objects in this first ever Circus Festival in Wellington on Sunday 28th January.
We are excited at the scope of this event and to be introducing the concepts and wonder of "new circus" to the Wellington community in this hands-on participative event. There is something for everyone, from High Flyers on the outdoor aerial rigs to sitting in the sun eating candyfloss and soaking up the carnival atmosphere" says festival co-producer Deborah Pope says.
There will be the awesome Lady Suspend and her rope; Magenta Diamond and her spinning hoops; Mason West, balancing for his life to the back drop of the city and serenaded by Wellington's hottest award winning "Zircus – The Big Band"
Capital E workshops with AkeAke Theatre Company, EmpressStiltdance, Horse Vaulting the Rimutaka Odd Sox, BMX Bandits and Unicycle magic and much more.
The producers will create living sculptures outside Wellington City Gallery and why not take the opportunity to see the Sam Taylor Wood exhibition on its closing day while your in the Civic Square?
The lady's from Craftwerk, the "Lady Luck" caravan, popcorn and candyfloss all create the fantasy of the "Big Top" in Civic Square for the day.
The day is launched with a Grand Opening Ceremony at 12.00pm and finishes with a bang with the grand finale at 4.30pm.
A Magic Day in summer! Bring the friends, bring the family, bring the kids, bring the carnival and the candyfloss, the grease paint and the giggles!
ENDS

Pesta 2006 ?Colourful Penang
"Pakat mai sini, Pulau Pinang menanti"
A reminder of our heritage

Festivals, both religious as well as secular, are very important events in Malaysia, and in particular Penang. Festivals act as a catalyst to bring people of all creeds, cultures and religions together. To highlight this 'phenonemom', the theme of Pesta Pulau Pinang 2006, Colourful Penang focuses on the harmonious relationship among the different races and cultures in Malaysia ?the very same people who will visit the Pesta.

Penang is one of the very few places left in the country that holds on dearly, still, to old traditions and customs. The 40 year-old Pesta is one fine example of a long-time and well-loved favourite among locals, Malaysians and visitors. Lest Penangites be accused of being obstinate and old fashioned, we should be reminded every so often that a strong sense of place can be a valuable asset in promoting cultural tourism in Penang.

The fiesta of colours

It goes without saying that without fail every year, all Malaysians, Penangites and tourists look forward to one of the most anticipated events on the local calendar ?the annual Penang Festival (Pesta Pulau Pinang). From the very first one in 1966, the fiesta has grown from strength to strength, with each new one having a different feel and experience from the previous.

... and harmony

The Pesta 2006 organisers have commissioned from well-known Malaysian cartoonist and caricaturist Reggie Lee five new original mascots specially for the event. Each mascot represents a Malaysian cultural group, and they are Pie (pronounced P-E) ?Malay; Elin, a Kadazan from Sabah; Singh, a Punjabi; Tan, Chinese and an Indian called Anju. Together, these mascots reflect the spirit of Muhibbah (unity) and harmony among the races that visit the Pesta. These mascots will be also be used in various promotional materials such as posters, billboards and stickers.

A fresh look for the Pesta

This year's Pesta will run from 1st to 31st December 2006 and organisers Penang Development Corporation have in line with the PDC's aspirations to build a new brand and image for Pesta with an introduction of new and exciting components. They include among others electronics products, home decor, automobiles, sports and fitness, health and herbal products, tourism, agro-based products, food and a bazaar gallery. All these together with a host of activities like Pesta Music Camp and Festival Boria.

Sporting fans will have plenty to shout about. This year, don't miss the exciting Pesta Tinju Amator Antarabangs. It is an international amateur boxing competition that will ensure that enthusiastic hordes will beat a path to the fiesta grounds.

And what is a fiesta without live music? A line-up of popular bands and singers await enthusiastic pop and rock fans. They include Penang First Rhythm of Percussion, Night Shanghai - Christmas Night Concert, 75th birthday Anniversary Concert of Chinese Music Grand Master, Maestro Peng Xiuwen, Christmas Concert and Concert Huaye "Joy of String". Adding to the excitement, Pesta Music Camp organised by Penang State Symphony Orchestra and Chorus (PESSCO) will also take place.

Don't miss the Mongolian Cultural Dance ?a performance of traditional dance and music from Mongolia organised by Gelugpa Buddist Association (Malaysia).
LANDLOCKED DEVELOPING COUNTRIES NEED MORE EQUITABLE WORLD TRADE,

SECOND COMMITTEE TOLD




Geographical Handicaps Keep Them from Being Competitive, Says Delegate




Lack of territorial access to the sea, combined with isolation from world markets and high transit costs made trade especially difficult for landlocked developing countries, the representative of the Lao People's Democratic Republic told the Second Committee (Economic and Financial) this morning as it continued its general debate.




Speaking on behalf of the Group of Landlocked Developing Countries, he stressed that such geographical handicaps barred those countries from being equally competitive in the world trading system. Calling for a universal, rule-based, non-discriminatory and equitable trading system, he said trade was a perfect tool for mobilizing resources and stimulating investment and economic development. The World Trade Organization (WTO) must consider the needs and interests of such vulnerable countries as the landlocked developing States. Continue ... [ ses this ]
(BPRW) (BW)(CA-COST-PLUS)(CPWM) Cost Plus World Market Unites with The Africa Channel to Create Awareness of Continent's Modern Culture and Entertainment Programs
(BLACK PR WIRE) WASHINGTON--(BUSINESS WIRE)--Jan. 25, 2007--Cost Plus World Market (NASDAQ:CPWM), a leading retailer of casual home living and entertaining products, announced today that the company has joined forces with The Africa Channel, a television media outlet that celebrates the challenges and successes of the African continent. At its first launch held in Washington D.C. on January 25 at the Academy for Educational Development, Cost Plus World Market products will be presented to 250 VIP guests. Attendees of this launch event include Ambassador Andrew Young, D.C. Mayor Adrian Fenty, Senators and Congress Members.

"Psychographically, many of our customers are aligned with the mission of the Africa Channel," said Gail Fuller, Senior Vice President of Brand Management for Cost Plus World Market. "Cost Plus World Market has long-standing, valuable relationships with many artisans throughout the continent. The diverse communities in Africa have a wealth of cultural heritage. The Africa Channel gives the American public the opportunity to experience and embrace the accomplishments, celebrations, and issues they face."

Washington D.C. signifies the first outlet that the African Channel will debut in with sponsor Cost Plus World Market. In addition, more exposure of the African Channel to look forward will occur on February 16, 2007 at the Zulu Ball in New Orleans, LA. There, the Zulu King and Queen will be presented with a unique collection of products from Cost Plus World Market. Additional launches are scheduled for Baton Rouge on February 27 and New Orleans on April 25.

About The Africa Channel

The premiere of The Africa Channel on September 1, 2005 marked a milestone in U.S. television history: For the first time, American audiences were able to experience the daily successes, celebrations and challenges of people living throughout Africa, all via a general entertainment network. The 24/7 commercially supported channel is now seen on cable systems in Detroit, Michigan, Washington D.C., Atlanta, Georgia, New Orleans and Baton Rouge, Louisiana. The Channel airs more than 1,600 hours of English-language programming, including news and information, travel, and lifestyle, music, soaps, talk, reality, feature films and special events. Long-time TV industry executives James Makawa, Jacob Arback and Richard Hammer founded the network. Its initial partners include Ambassador Andrew Young and his company, Goodworks International, Weller/Grossman Productions, and National Basketball Association stars Dikembe Mutombo and Theo Ratliff. For more information about the channel, please visit www.theafricachannel.com.

About Cost Plus World Market

Cost Plus World Market operates 287 stores in 34 states under the names "World Market" and "Cost Plus World Market." The stores feature an ever-changing selection of casual home furnishings, housewares, gifts, decorative accessories, over 500 international wines, gourmet foods and beverages offered at affordable prices and are imported from more than 50 countries. Many items are unique and exclusive to Cost Plus World Market. All are regularly supplied by an international network of individual and regional artisans developed over the Company's nearly 50 years in the import business. The value, breadth and continual refreshment of products invite customers to come back throughout a lifetime of changing home furnishings and entertaining needs.
Contact Information
Cost Plus World Market
Derrick Meyer, 510-808-9515
derrick.meyer@cpwm.com
T-F 10:30
Indian Weddings:
A Punjabi Wedding in Delhi
A traditional Indian wedding,
Punjabi
style! The rituals and customs and the Grand wedding, which was fun but at the same time it can get too long.
A Goan Wedding
A colourful wedding for the colourful people. Having a wedding in Goa is an enticing thought. But did you know they have a custom to pour coconut milk on the complete bridal group, and some people even throw eggs on the to-be married couple.
By Martin Njikem The 541st edition of the cultural festival of the Bamoun people-Nguon, was celebrated recently in Foumban.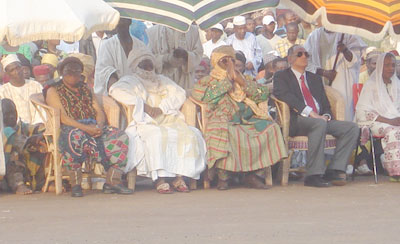 Sponsored by Pari Mutuel Urbane Camerounaise, PMUC, at FCFA 8.4 million, the three-day cultural jamboree was presided at by the Governor of the West Province, Pascal Mani.

Mani commended the efforts of the Bamoun people in tracing their origins.
The national and international community, members of government, ambassadors, businessmen and traditional authorities and the rest of the visitors who were present were treated to a festival that recalled the historical origins of the Bamoun people some 800 years ago.

Not only was it an opportunity to sell their rich culture, but it was also a forum to reflect on the development of Bamoun and to assess the Sultan on his deeds and shortcomings in the last two years.

Addressing the mammoth crowd that turned out for the event, Sultan Ibrahim Mbombou Njoya thanked the Government for the various development projects carried out in the Noun Division including the recent launching of the Mt. Mbappit Agricultural Project that cost over FCFA 6 billion.

The Sultan also praised the official partners of Nguon especially PMUC.The Bamoun leader while acknowledging his shortcomings, cautioned his subjects to steer clear of the HIV/AIDS pandemic.

He called on all the Bamouns to work harder for the development of Noun Division.
The "Fonanguon" or king makers re-affirmed the Sultan's efficiency and mandated him for another two years in office.

They, however, urged that the rampant hold-ups in Foumban be given immediate and appropriate solution. On his part, the General Manager of PMUC, Jean Dominique Casamarta, what prompted PMUC to play such a leading role in sponsoring Nguon 2006, was in line with PMUC's efforts to promote Cameroonian cultures in all their diversity.
The next edition of Nguon will take place in 2008.
America has a set of traditional folkways.
America has a set of traditional folkways. We as a peoples ( please note the plural of this term )have constructed over the decades and centuries a set of covenants known as traditions or folkways if you will. They are not necessarily all the time adhered to, but all Americans none the less, understands them as American.
Thus the listed cultural information now being provided after this explanatory comment - advise.
the one single factor, as you likewise should be informed, is that the American revolution is the actual demonstration and political consequences thereof and pretaining to, the liberation of the middle class. The set of folkways which emerged out of this histroical aspect, to this very day is under continual change, is the American ethos you are now a part of. We as a peoples, as you should be likewise be cautioned, have not made it exactly right for all of our citizen's; the central factor in the assured quarantee of this revolution is the social, cultrual and economic circumstance of assuring the critical aspect inclusion. Good advice [ Three ] from Mr. Roger M. Christian
American dance customs since about 1870s [ traditionals ]
Symbolic proclamation of Acropolis as top European monument
Culture Minister George Voulgarakis announced on Tuesday that an indication will be placed at the Acropolis on March 26 that this emblem of Greek cultural heritage will be proclaimed the top monument on the European Heritage Monuments List being prepared. He was speaking here at the end of the informal meeting of European Union culture ministers.

The theme of the informal council was "The economy of culture", meaning economic activity about culture that produces income and jobs and constitutes a new dimension.

"We are still at the beginning. It is a policy in the making," Voulgarakis told Greek reporters, underlining the different starting points of rapprochement between countries whose "cultural" interests concern, for example, a developed cinema industry and others, such as Greece, whose "heavy artillery" of cultural interests lies in the utilisation of their cultural heritage.

The Greek minister also referred to the European Heritage Monuments List being prepared, that was scheduled recently at the initiative of France, Spain and Hungary and was supported by Greece, stressing that the ultimate aim of the undertaking is its inclusion in a programme of the European Union to enable funds to be found for the preservation of monuments