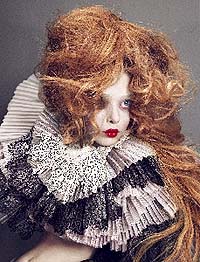 Mert Alas & Marcus Piggot, Doll, London 2006. Tania Dziahileva. Pop, Autumn/Winter 2006/07. © Mert A
EXHIBITIONS PROGRAMME 2007
Corrine Day, Kate's Flat, 1993. Kate Moss, British Vogue, June 1993. Picture courtesy the artist and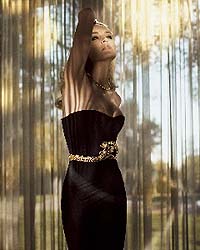 Mario Sorrenti, Sharon Stone, 2006. Harper's Bazaar (US), April 2006. © Mario Sorrenti
FACE OF FASHION
Mert Alas & Marcus Piggott, Corinne Day, Steven Klein, Paolo Roversi and Mario Sorrenti; Wolfson Gallery; Sponsored by Gap and Taylor Wessing.

Face of Fashion is a major exhibition focusing on the portraits of five outstanding fashion photographers from Europe and America: Mert Alas & Marcus Piggott, Corinne Day, Steven Klein, Paolo Roversi and Mario Sorrenti. It is the first exhibition to focus on the concept of the portrait within the diversity of current fashion photography.

Fashion photography dominates our visual culture. Never has it been so prevalent, pervasive and wide-ranging, incorporating as subjects not only the most popular professional models but also our greatest actors, musicians, filmmakers and designers. With the boundaries between advertising, editorial and fine art now blurred, the world's most famous fashion photographers are shaping our ideas of beauty, sexuality and fame.

Face of Fashion is curated by Susan Bright, independent curator and writer, author of Art Photography Now, published in 2005 by Thames & Hudson. The exhibition installation is designed by David Adjaye of Adjaye Associates and opens with London Fashion Week 2007. A lavishly illustrated book, designed by Thomas Manss & Company, will accompany the exhibition. It includes full plate reproductions of the portraits in the exhibition, together with essays by Susan Bright and Vince Aletti, critic and journalist, writing for publications including Aperture, the New Yorker, Photoworks and Photographs. It is published by the National Portrait Gallery price £35 hardback.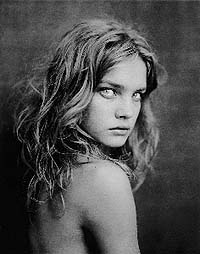 Paolo Roversi, Natalia, Paris, 2002. © Paolo Roversi
BETWEEN WORLDS: VOYAGERS TO BRITAIN 1700-1850
Porter Gallery

From the seventeenth century, largely as a result of British colonial expansion, non-European visitors to England caused widespread frissons of excitement, interest and curiosity in social circles across the capital. This fascinating exhibition of contemporary cultural resonance
as well as art-historical importance focuses on the complexities and ambiguities of encounters between these visitors and their British contemporaries over 150 years.

These visitors from former British colonies, including North America, the South Pacific, India and Africa; their reasons for coming and their reception in Britain were as diverse as their backgrounds. Their stories and the impact they had on British society are examined here for the first time. The exhibition brings to life the fascinating experiences of a small group of 14 individuals, including the 'Four Indian Kings' of Canada, Mai of the South Pacific, Raja Rammohun Roy of India and Sara Baartman from Africa.

The exhibition is curated by Professor Jos Hackforth-Jones, Professor of Art History at the American International University, London, with Professor David Bindman, formerly Durning-Lawrence Professor of Art, University College, London, Dr Stephanie Pratt, Principal Lecturer in Art History at University of Plymouth, UK and Dr Romita Ray, Assistant Professor of Art History at Syracuse University, USA.

A fully illustrated catalogue including a foreword by Ekow Eshun (Artistic Director, ICA) accompanies the exhibition. Published by the National Portrait Gallery, £15 paperback
BP PORTRAIT AWARD 2007 AND BP TRAVEL AWARD 2006

Scheduled for: 14 June -16 September 2007
Wolfson Gallery / Sponsored by BP

The Portrait Award, sponsored by BP, is a highly successful annual event aimed at encouraging young artists to focus upon, and develop, the theme of portraiture within their work. This year, for the first time since the annual portrait award competition started in the Gallery in 1980, the Award will be open to people over the age of 40. With the renewal of the BP sponsorship until 2011, the competition and exhibition will now celebrate the very best of contemporary portraiture from all artists over the age of 18 - with no upper age limit. A special prize will offered to the best portrait painted by someone under 30.

The BP Portrait Award 2007 will also display work by 2006's Travel Award winner, Toby Wiggins, who travelled in a camper van from Dorset to the New Forest, in the beautiful southern English countryside immortalised as Wessex in the novels of Thomas Hardy.
Fine Art Surrey - Buy Original Fine Art Online
International Internet Art Gallery selling Oil Paintings, Watercolours, Sculptures and Prints by Britains best contemporary and traditional artists including leading members of the Federation of British Artists.
Recommended Galleries to see in London:



Johannes Itten / Avant Garde