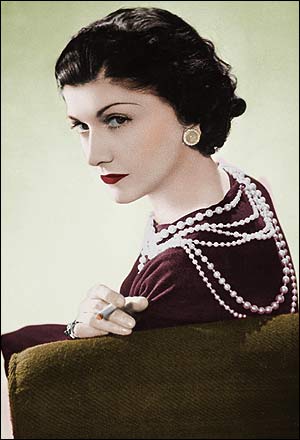 The traditional R.K.O. ( Movie ) Theatre building on 14th street and New York Avenue, Washington, D.C. second floor windows which then housed Arthur Murray Dance Studios - glazed reflecting the afternoon sun's rays. We sat in the second floor manager's office listening on how as Arthur Murray Dance Instructors, since the mainstay of the business services female clients, we must know something about female taste in styles, and high profile fashions, and here I was first intorduced to " Coco " as she was called. Moreover, and as the sales female trainer lifted her head proudly and dominating with her lovely graceful stature, greatly dignified by her years and experiences over the decades in teaching and managing, she made sure that the popularity of female pants suits, or cross dressing, and loose wear fashions did not come from Yves Saint Laurent [ Her feminist ideals resented his exploitation of her contribution as being his own innovations.], but in very bold revolutionary move from Chanel herself decades before. This histroic cross dressing step foward move destroyed the corset and capsulated the very cultural avant garde fringe [ Inclusive of early free love European expressions surrounding the sociocultural ethos of the West Bank of Paris, France. ] of the early feminist movement.
I was greatly caught in aw by her central beauty as looked through protraits of her found in Washington, D.C. during the Summer of 1969.
This was my second period of Womyn Studies as well.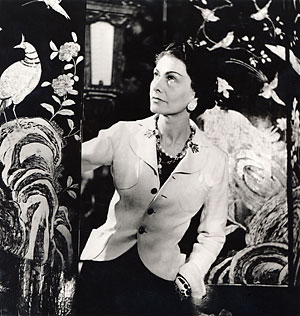 Gabrielle Bonheur Chanel
Full name.
Gabrielle was brought into the world in the lovely French community of Saumur, France, 19 August 1883. Following the early French tradition for most females of the time who were not not from the upper classes,[ Coco Chanel's personal life was tragic, beginning with the death of her mother and abandonment by her father by the time she was 12. At 17, she moved to an orphanage run by nuns.] she was educated at the convent's orphanage Aubazine, 1895-1900; then later at theconvent school at Moulins -1900-02. Upon her accounts to her friends later she did quite well. Though they really had the watch and disipline her all the time. She grew in the softness of real strength and self-convictions as well, and her head was always turned to masculine strength by men had a force of character.
Did she want have their force of character which allow those who she saw was able to dominate with a very distinct presents in any room or hall once they entered?
Her self focus happen as a consequence of working as a clerk at the Au Sans Pareil hosiery shop, Moulins, 1902-04. Here she started to question, as many other younger females of France of the time were always complaining how the wale bones within their corset were very uncomfortable, and that they felt they were about to faint if they tried to bend over quickly to pick up something which they just droped. Other complaints were likewise being discussed - as their journals of the times have indicated which mentioned the unmentionable when they had to releave themselves - its was cumbersome in dealing with clothing layers. This was a growing yet hidden concern which grew during various heat waves under the Summer conditions of Pre WWI France itself.
Gabrielle had a personality as well and needed creative outlets. Aorund the historic bend of her time and era a name was awaiting her. Someone droped a name of Coco a year earlier while looking into her eyes and she kept this in her imagination and growing self-image. She became a café-concert singer, finally using nickname "Coco," openlly in Moulins and Vichy, Her life grew richer, her beauty grew in attractive stature, and she discovered what she also liked in those she was seen with and made careful critical choices as well as who. She discovered what power was.
1905-08 her real first venture in adventure lover began while she lived with Etienne Balsan, Château de Royalieu and in Paris. Nonetheless, her earlier uinderstanding of female fashion concerns were given a baisis betweem 1908-09; as first as stage costume designer and grew form the experience of what stich went where and colorization.
In 1909, Gabrielle Chanel opened a small shop on the ground floor of the Balsan's apartment in Paris - the beginnings of what would later become one of the greatest fashion empires in the world.
During her pre-war era, Chanel met up with Arthur "Boy" Capel, whom she soon fell in love with. With his assistance, Chanel was able to acquire the property and financial backing to open her second millinery shop in Brittany, France. Her hats were worn by celebrated French actresses, which helped to establish her reputation. In 1913, Chanel introduced women's sportswear at her new boutique in Deauville, in the Rue Gounaut-Biron; Marthe, Countess de Gounaut-Biron (daughter of American diplomat, John George Alexander Leishman), was Chanel's first aristocratic client. Her third shop and successor to her biggest store in France was located in Deauville France, where more women during the World War I era came to realize that women were supposed to dress for themselves and not their men.
The Revolution" Little Black Dress "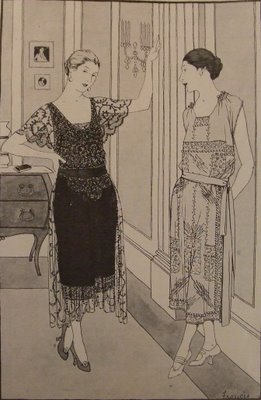 From: The 1000 fragrances Blog.
The Revolution:
Once established in Paris Coco Chanel was very influential on the fashion scene. In addition to the bobbed hairstyle and the unisex style of dressing, she introduced the "little black dress," the use of clingy knits, slacks (in her own wardrobe) and women's bathing suits. Women world wide were about to be released to fully take the plung.
Chanel introduced a bathing suit made out of lightweight, clingy jersey; it still had long sleeves, extended past the knees, and was covered by a long skirt. This sounds like plenty of coverage to us now, but back then the suit caused quite a stir...and a fair share of scandal - pre World War I.
After the great social and cultural rebound after WWI, and the additional need for France itself to be healed - where most of the war was conducted, Coco Chanel was ready.
The real consequnce which Coco Chanel had wasn't just ahead of her time. She was always pushing herself from hidden secrets of her own drives and was always ahead of herself. Most fahsion observers and editorial boards when they take looks at the work of contemporary fashion designers as different from one another as Tom Ford, Ralph Lauren, Helmut Lang, Yves Saint Laurent, Miuccia Prada, Jil Sander and Donatella Versace, they have noted what they see that many of their strategies echo what Chanel once did. The way, 75 years ago, she mixed up the vocabulary of male and female clothes and created fashion that offered the wearer a feeling of hidden luxury rather than ostentation are just two examples of how her taste and sense of style overlap with today's fashion.
Chanel, her snsual self could not have defined herself as a feminist — in fact, she consistently spoke of femininity drives behind her will to design rather than of any public discourse in the support of feminism. She realized that the character behind design concepts of her times had to be feminine centered instead of securing male expectations of women of her time and era. She was fighting male dominance in the fashions industry, and the consequences in which women had to indure as a result - the resulting negative health aspects as well. Thus " The Littel Black Dress," became the most significant fashions statement in which she allow the latent feelings which women of this time and era felt were allow a voice through her own sociocultural leadership. Between her instincts of really liking males and her awareness of the loss of expectations and aspirations French women suffered meant she had to cross over a very real barrier. Thus female fashions had to reflect feamle sensual consiousness of body, spirit, and sexuality. What most have not really understood is that she knew men would simply fall more in love with this revolution image now being seen on the streets, in the churches, and at nightlife ethos..
This meant that comfort, and personal reflections to enjoy ones own body and to add grace to its forms with more relaxing design to fit physical form and activity, personalized colorizations [ The female equal to a male coat of arms ], and florishes [ Being lacy. ] must be designed to fulfill. Yet her work is unquestionably part of the liberation of women. She threw out a life jacket - the corset, as it were, to women not once but twice, during two distinct periods decades apart: the 1920s and the '50s. She not only appropriated styles, fabrics and articles of clothing that were worn by men but also, beginning with how she dressed herself, appropriated sports clothes as part of the language of fashion. One can see how her style evolved out of necessity and defiance. She couldn't afford the fashionable clothes of the period — so she rejected them and made her own, using, say, the sports jackets and ties that were everyday male attire around the racetrack, where she was climbing her first social ladders. This was the key in as much as their cost fit the average purse - which she likewised design. She litterally dressed every women by understanding the key is comfort, but being sexy [ What was a woman's definition of being sexy instead of male definition. ] at the sametime.
She told top the world
" This is who we are."
" The Little Black Dress "
Everyone women has had at least one in their lives.
Hepburn - Coco original - Movie Sabrina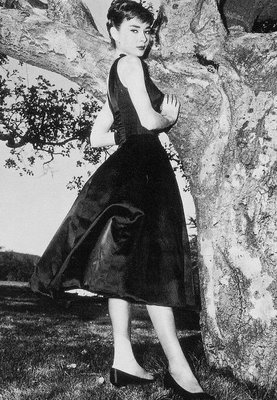 The Ghetto Fashionista Blog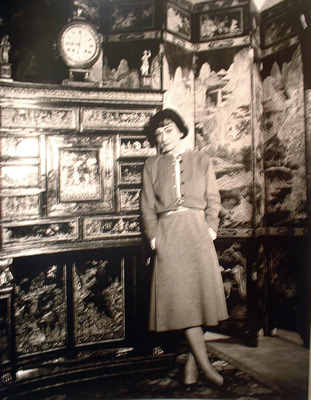 It was in Biarritz 1916; fragrance, No. 5 was envisioned, marketed from 1921. She was a leading influence as a film costume designer, and Edit Head was always following her trail as well; this was also apparent when actresses like Audrey Hepburn, Betty Davis, and Myrna Loyd was always asking for her. Her stylized dominace still exists - ven on Bollywood ( India's Hollywood ).
She was exiled to Lausanne for affair with Nazi officer[ This fascet is now being looked at.], Between 1945-53; rue Cambon headquarters reopened and first post-war showing,
Additional notes and acolades have been coming and the list includes:
Broadway musical Coco, starring Katherine Hepburn debuted on Broadway, 1969; company continued after Chanel's death in 1971.
Ready-to-wear introduced from her fashion house 1977.
Karl Lagerfeld was brought in as designer for couture in1983. Lagerfeld took over ready-to-wear, 1984; gun manufacturer Holland & Holland acquired, 1996; French beachwear company Eres pruchased, 1997; one licensing agreement with Luxxotica for eyewear. Other fragrances include No. 22, 1921, Cuir de Russie, 1924, No. 19, 1970, and from the House of Chanel, Cristalle, 1974, Coco, 1984, Egoïste for men, 1990, Allure, 1996, and Allure Homme, 1998; launch of Precision skincare line, 1999; introduced line of his-and-hers watches, 2000. Exhibitions: Les Grands Couturiers Parisiens 1910-1939, Musée du Costume, Paris, 1965; Fashion: An Anthology, Victoria & Albert Museum, London, 1971; The Tens, Twenties & Thirties, Metropolitan Museum of Art, New York, 1977; Folies de dentelles: Balenciaga, Cardin, Chanel, Dior…Exposition du 24 juin au octobre 2000, Musée des Beaux-Arts et de la dentelle, 2000. Awards: Neiman Marcus award, Dallas, 1957; Sunday Times International Fashion award, London, 1963. Died: 10 January 1971, in Paris. Company Address: 29-31 rue Cambon, 75001 Paris, France.