From public press release issued July 12, 2007 and continued from
Asian Sport Column
of Academia ~ International Students / Scholars News .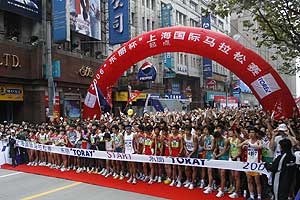 <Toray Shanghai Marathon as a City Marathon>
Marathons have been attracting people's attention in China over the past several years as a sport for increasing health, and the number of people who enjoy marathons is increasing throughout the country every year. The Toray Shanghai Marathon held in China's largest financial center, has developed as an international citizen's marathon with many participants from foreign countries and celebrates its 12th anniversary this year. It was recognized as one of China's four major international marathons (Beijing, Shanghai, Dalian and Xiamen) by the State General Administration of Sports in 2005 and designated as one of Shanghai's four major sports events, together with the F1, Men's Masters Tennis and IAAF Grand Prix, by the Shanghai city government in 2006.

The 2006 Marathon welcomed more than 17,000 runners including approximately 1,200 runners from Japan. China is today anticipating the 2008 Beijing Olympics, and Chinese people are showing increasing interest in the marathon as an Olympic event, so the 2007 Marathon is expecting approximately 20,000 participants.

As the course gradients are not so high, runners should be able to complete the high-speed course comfortably, running through the sightseeing spot of East Nanjing Road and main streets in the cosmopolitan city. The number of participants from Japan is expected to increase since interests in running are increasing recently and air access from Japan will be more convenient this fall.

<Special Sponsorship>
Toray has sponsored the Shanghai International Marathon as a special sponsor since 1997.

Toray has a long relationship with China, particularly Shanghai, since it exported a fibrous raw material plant to Shanghai in 1973. Currently, Toray has a large-scale integrated production base of polyester fiber, engaging in polymerization of polyester to yarn-making, weaving and dyeing of the fibers, in Nantong City, Jiangsu Province. It established Toray Industries (China) Co., Ltd. in Shanghai in 2003 to control 17 affiliated companies in China and is aggressively expanding its business in China, particularly in Shanghai.

One of Toray's basic management policies is "For Society". Toray stresses "contribution to the local community as a good corporate citizen through social activities" in sponsorship of the Shanghai International Marathon.

Toray will contribute to the development of Shanghai through special sponsorship of the marathon and make efforts for the development of the marathon as part of the friendship activities between Japan and China.

The outline of the 2007 Toray Shanghai Marathon is described below.
Outline of 2007 Toray Shanghai Marathon
Title
:
2007 Toray Shanghai Marathon
* Official Title: 2007 Toray Cup Shanghai International Marathon
* 2007 Toray Shanghai Marathon is the official abbreviation.
Organizers
:
China Athletic Sports Association
Shanghai City Sports Federation
Co-organizers: Shanghai City Athletic Sports Association
Huangpu Qu Sports Federation
Jingan Qu Sports Federation
Minhang Qu Sports Federation
Changning Qu Sports Federation
Xuhuai Qu Sports Federation
Shanghai Television Station
Shanghai East Asia Sports Culture Co., Ltd.
Special sponsors
:
Toray Industries, Inc.
Toray Industries (China) Co., Ltd.
Support
:
Japan-China Friendship Association
Date of event and starting point
:
Sunday, November 25, 2007 (no postponement for rain)
7:30 (Scheduled time) (Full Marathon / Half Marathon) Century Plaza, East Nanjing Road, Shanghai City
7:45 (Scheduled time) (Fun Marathon) Same as above
Event categories
:
(1) Full marathon (42.195 km / Finishing point: Minhang Stadium)
(2) Half marathon (21.0975 km / Finishing point: Minhang Stadium)
(3) Fun marathon (4.5 km / Finishing point: Jing An Park)
Rules
:

(1)
The marathon will be held in accordance with the latest rules of the IAAF and rules of the China Athletic Sports Association.
* Doping tests will be conducted in some cases.
(2)
Time limit (termination time) and distance (net time)
Fun marathon 1 hour
Half marathon 3 hours
Full marathon 6 hours (30 km: 4 hours and 15 minutes / 35 km: 5 hours)
(3)
The clock chip system will be used in the full and the half marathons to measure time. All participants must wear a chip.

Awards
:

(1)
Winners' prize
Full marathon / Half marathons:
1st to 3rd place winners (both men's and women's categories) will each be awarded a trophy, testimonial, prize money, and supplementary prize.
4th to 6th place winners (both men's and women's categories) will each be awarded a testimonial, prize money and supplementary prize.
(2)
Record makers' prize
- World record breakers (both men's and women's categories) will be awarded 100,000 US dollars.
- The male Toray Shanghai Marathon record breaker will be awarded 1,000 US dollars and the female record breaker will be awarded 800 US dollars.
- This prize is not awarded in a duplicated manner. Only either of the above is awarded.
(3)
Completion prize
All full / half marathon finishers who completed running within the time limit will receive a completion prize.
(Time limit: Full marathon: 6 hours / Half marathon: 3 hours)
(4)
Participation prize
All participants will receive a commemorative T shirt.

Officials and judges
:
To be sent from the China Athletic Sports Association and the Shanghai City Athletic Sports Association
Organizing committee
:
2007 Toray Cup Shanghai International Marathon Organizing Committee
Address: 601/602 East Asia Building, 1500 Zhong Shan Nan Er Road, Shanghai (postal code: 200030)
Tel/Fax: 021-66298808/021-66296008
URL: http://www.shmarathon.com
E-mail: shmarathon@126.com
Eligible participants
:
Full marathon / Half marathon: Males and females over 18
Fun Marathon: Adults and children above elementary school age
All participants must be in good health.
No. of participants
:
Approximately 20,000 participants expected in the three categories (full, half, and fun marathons)
* Entries for the fun marathon will be closed when the number of applicants reaches 10,000.
Entry fees
:
Full marathon: 6,000 yen; Half marathon: 4,000 yen; Fun marathons: 3,500 yen
To apply
:
Please contact travel agencies for the marathon tour or contact Toray Shanghai Marathon Japan Office for an application form.
* Japan Office accepts only entries from applicants living in Japan.
Other applicants are requested to contact the Shanghai Office.
Offices
:
(Japan) 2007 Toray Shanghai Marathon Japan Office
Tel: 042-522-4881; URL: http://www.shmarathon.com
(Shanghai) 2007 Toray Shanghai Marathon Shanghai Office
Tel: 021-66298808, 66296088; URL: http://www.shmarathon.com/
Application period
:
From Japan: May 7, 2007 (Mon)-November 5, 2007 (Mon)
From Shanghai (foreign residents):
1st period: Sep. 3, 2007 (Mon)-Sep. 28, 2007 (Fri)
2nd period: Oct 13, 2007 (Sat)-Nov. 5, 2007 (Mon)
From Shanghai (Chinese residents):
1st period: Sep. 3, 2007 (Mon)-Sep. 28, 2007 (Fri)
2nd period: Oct 13, 2007 (Sat)-Nov. 5, 2007 (Mon)

<For more information about invitation for entries please contact:>
2007 Toray Shanghai Marathon Japan Office
Tel: 042-522-4881
URL http://www.sh-marathon.com/
Closing date for applications: November 5, 2007 (Mon)

<For press inquiries please contact:>
2007 Toray Shanghai Marathon PR Office
Tel: 03-5575-3223